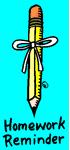 Homework: Week of March 27, 2017
* Noon dismissal on Tuesday & Thursday for Parent Conferences.

Math -
Math page on Monday and Wednesday. Reflex/reading on Tuesday and Thursday.

Phonics -
Foundations Unit 13 Assessment will be this Friday, 3/31.
*Homework for Grade 2 should take about 20 minutes a night. If your daughter/son has difficulty completing an assignment in this time frame, just send in the incomplete page, and we'll go over it in class.