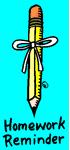 Homework: Week of May 22, 2017
Play Update: The boys and girls should wear either khaki or solid colored shorts/pants (depending on temperature). We're providing the tops (blue for our class) or costumes (Dorothy, Tin Man, Scarecrow, Glinda, Trees, Wizard, etc.) Please email me with any questions! Hope to see you on Thursday!!
**Reminder - Friday is noon dismissal, and Monday is a no school day to celebrate Memorial Day!

* Check out our Monthly Newsletter to see what is going on in our classroom over the next few months.
** Important dates: May 25, Wizard of Oz Performance, 9:30 a.m.
                                 June 1, Class Author's Day, 9:15-10:15 a.m.

Math - Math page on Monday and Wednesday. Reflex/reading on Tuesday and Thursday.

Phonics -
We will begin our last Foundations Unit 17 this week. The 
Assessment will be on Friday, June 2nd.

*Homework for Grade 2 should take about 20 minutes a night. If your daughter/son has difficulty completing an assignment in this time frame, just send in the incomplete page, and we'll go over it in class.