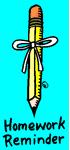 Homework: Week of June 4

Reminders:

*June 4th @ 9:30 a.m. is our class Author's Day in the classroom. All family members are invited!!

* Last written homework assignment for the year - Character Book Report!  Information for this one-week assignment will be given out on Monday. Due date will be 6/11. The girls and boys will present their information to the class as they hand it  in.

Fundations - The Unit 17 Assessment will be on Friday, June 8. This is the last unit and last assessment in the Fundations program!! We will review words from each of the units in class from 6/11-end of the year.


Reading -
Read for 10-15 minutes Tues., Thurs., and any other night that you have time
!
*Homework for Grade 2 should take about 20 minutes a night. If your daughter/son has difficulty completing an assignment in this time frame, just send in the incomplete page or send me a note, and we'll go over it in class.