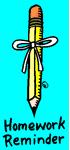 Homework: Week of November 13

Math - One double-sided page for homework on Monday (only odd number problems need to be completed, i.e. 1, 3, 5, 7, 9, 11, 13, but all problems can be completed), and Wednesday.
Fundations  -  Unit 6 Vowel Teams page (keep at home to refer to over the year) and Sight Word list will be given out on Mon. Assessment will be on Fri., Dec. 1.

Reading - Each night for 10 minutes.
*Homework for Grade 2 should take about 20 minutes a night. If your daughter/son has difficulty completing an assignment in this time frame, just send in the incomplete page or send me a note, and we'll go over it in class.